Click2Claim
1.

Tender

2.

Analysis and specification

3.

Realization

4.

Testing

5.

Modifications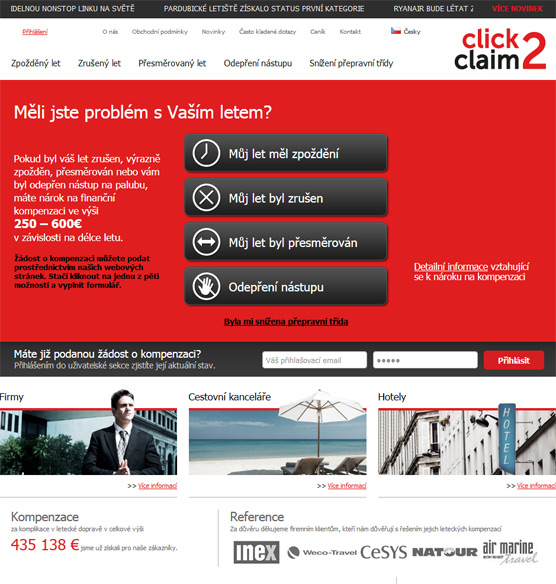 Launched: 2012
180hours of analysis
3months of preparation
3language mutations
The company Click2Claim represents their clients during the enforcement of financial damage they suffered because of an unexpected problem in air transport. They will help you with financial compensation if your flight has been canceled, delayed or otherwise made impossible.

Pavel Břichnáč, NETservis project manager, said about the project: The company Click2Claim approached us with a request for cooperation. Based on the precise assignment we have created a site that satisfies customers while earning money for Click2Claim. Cooperation with Click2Claim was perfect. Ing. Herynk, the CEO, had a clear idea on what he wants to achieve and we realized his vision. em>

The result of the effort of the whole NETservis team and the employees of Click2Claim was awarded first place in the competition Internet Effectiveness Awards 2013 in the category of Tourism and Transport, organized by the prestigious group of companies ASSOCIATION BIZ, where NETservis is a member.
Project URL: www.click2claim.eu